A long time ago, on an farm in Indiana County, Pennsylvania, there was an orchard.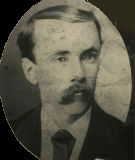 Over a hundred twenty-five years ago, my great grandfather, Joseph Henry Henderson, planted an orchard of one hundred apple trees on his farm in the south-west corner of Indiana County, Pennsylvania, about 35 miles northeast of Pittsburgh, and just over the county line from Armstrong County.

My Grandpap, John G. Henderson maintained his father's original orchard and made significant changes, discontinuing some varieties, removing trees and adding others. The orchard was probably at its peak in number of vigorous trees during the 1920s and early 30s, when my father was growing up. Apple sales were a significant source of income during the depression, supplementing the Henderson dairy operation. Apples were sold both at the farm and along the milk route. When the dairy operation was expanded after World War II, the orchard became less important, and the trees were no longer maintained.
On New Year's Day in 2004 I had a conversation with my dad, Joseph R. Henderson, about the orchard. He was then 89, but his memory of those apples was quite clear. The apple business was a family operation. All the children had apple information grilled into them so they could serve customers. It wasn't enough that they could sell the apples; each child had to be able to recommend different apples. That may explain why my dad was able to remember the details of the orchard and its apples as well as he did. Dad died at Christmastime in 2010, and one of my favorite memories of his storytelling (and he had a lot of stories) was that day we talked about the orchard.

Following our discussion, I created a chart listing and describing the apple varieties my Dad told me about. That apple chart is now located at the Sage Hen Farm website.